Chris Woods News
This article originally appeared in the Daily Memphian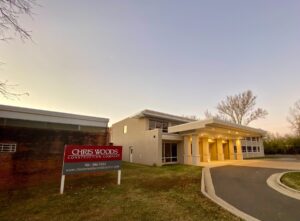 Room in the Inn is preparing for a permanent campus to serve the homeless near the Medical District.
A zoning request to allow the use was filed for the Board of Adjustment meeting at 2 p.m. Dec. 16.
The Christian Methodist Episcopal (CME) Church has dropped plans to renovate the long-closed Collins Chapel Connectional Hospital at 405-409 Ayers for a 28-bed, skilled nursing facility "due to various business, financial and other economic challenges," according to a letter of intent.
Now the plan is to renovate the two buildings at the northwest corner of Ayers and Lane, a half-mile north of Le Bonheur Children's Hospital, to serve the homeless.
The renovation is supported by $2 million in federal CARES Act funding through the city of Memphis and Shelby County, the document states.
After the pandemic struck last winter, the CME Church and city officials started discussions about the possibility of using the facilities to provide shelter, meals and limited medical care to the homeless, states the letter written by Corbin Carpenter of the Carpenter Law Firm.
"During this period, the City was providing shelter for homeless families at local hotels and was seeking a more long-standing and viable alternative," the letter states.
Room in the Inn has an "established record of achievement in providing valuable services to the homeless population in Memphis and other locations," the letter states.
Before the pandemic, the primary Room in the Inn model worked this way:
More than 50 participating religious congregations would make their buildings available once a week for the homeless to stay the night during the colder months. Volunteers would provide supper and breakfast at each site. Room in the Inn would screen the homeless participants, who would be transported between a Downtown pick-up site and the congregation's building.
"It is intended through (Room in the Inn) and the CME Church that meals and shelter will be provided on this short-term basis to all eligible individuals and families within the City and County," the letter states.
The church has entered into an agreement to lease the property to Room in the Inn.  Both the county and city have each agreed to grant $1 million in CARES Act funds for the renovation.
All the money allocated by the city and county must be spent and the project must be complete and ready for occupancy by Dec. 30, or the money will have to be returned to the federal government, the letter states.
Even though the zoning variance goes to the board in December, work at the site appears to have been occurring already. A construction fence is erected.
The church requests from the Board of Adjustment a zoning variance for the proposed use. Half the site is zoned for residential use and the other is zoned for mixed-use.
The church's Collins Chapel Connectional Hospital was founded 110 years ago and served African Americans, the letter of intent states. It closed in 1980.