Chris Woods News
This Article originally appeared in the Daily Memphian.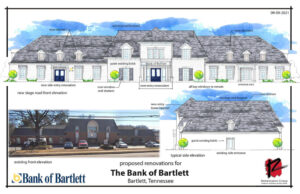 In a move to enhance its visibility and provide better customer service, Bank of Bartlett has begun a multi-phase, nearly $2 million renovation of its headquarters at 6281 Stage Road.
Extensive interior and exterior improvements started earlier this week at the offices of one of Bartlett's largest employers. The two-story building, the workplace for approximately 80 employees, was built in 1980 and expanded to 15,000 square feet in 1985.
"Over the years since then, we've had different renovations, but nothing like this. This is almost like redoing everything. We're really excited because this is our main campus," Bank of Bartlett President Harold Byrd said. "We had started to do this project a couple of years ago prior to the pandemic, and I think that put everybody on hold."
The renovations are part of the bank's strategic plan to make substantial investments in technology and digital offerings for customers.
Planned changes include enhancements to the bank's exterior, cosmetic improvements throughout the interior, new flex office spaces, a new employee break room and new technology for the executive boardroom.
"We're going to redo the facade, and I think it will be much warmer and more updated," Byrd said. "I think it's going to be a new beautiful look, and the most important thing is all of the reworked spaces are going to serve our clients in the community and our employees better."
Renaissance Group designed the project, and Chris Woods Construction is doing the work on the building.
Customers can expect no service interruptions during the construction.
"We learned a whole lot during the pandemic including how to do a full-service drive-thru, so we will be open every day during this renovation process,"Garry Davis, Bank of Bartlett executive vice president of retail banking, said. "What's really cool is our headquarters will show our commitment to technology and to Shelby County."
He notes the renovations will include revamping the IT areas and second-story call center.
"We continue to grow our accounts, which we're really proud of. Customers are accustomed to using our online banking and our alternative delivery methods, so they can come into the bank or use our really great online banking system," Davis said.
The bank is temporarily relocating support teams to its other seven offices across the Mid-South.
John Threadgill, president of the Bartlett Area Chamber of Commerce, says the city is proud of the Byrd family's successful 40-plus-year history in banking, and he is delighted to see their dedication to the community exemplified in the makeover.
"The bank's renovation is another positive step toward the community's strong growth," Threadgill said. "The fact that they're committed to keeping their headquarters in Bartlett Station is a definite plus."
Byrd is hoping everything will be done in about a year.