Chris Woods News
This article originally appeared in The Daily Memphian.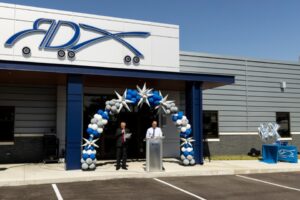 Eleven years ago, Roumen Denkov and Dian Tchoparov were driving tractor-trailers before they decided to build their own empire.
The pair of Bulgarians, in a small office in Bartlett, decided to stake their claim in Memphis.
"Starting a business is easy," Tchoparov said. "Making it work is something else."
On Friday, Oct. 7, the co-founders of RDX, a trucking company, celebrated the grand opening of their new 11,516-square-foot headquarters at 4590 American Way in the former Mall of Memphis.
TAG Truck Center previously owned the Mall of Memphis site and built a $30 million facility. RDX took over the property in October 2019.
In 2020, the Memphis and Shelby County Economic Development Growth Engine awarded RDX a six-year payment-in-lieu-of-taxes incentive for the construction of a new $8.6 million facility at 4504 American Way. The PILOT was given an extension by the EDGE board last month.
Today, RDX has a fleet of 100 commercial trucks and is expected to grow its commercial fleet by 15% this year. The company operates in 48 states and has 36 employees. Tchoparov said the company plans to add 15 to 20 employees over the next few years.
RDX plans to add 350 commercial trailer parking spaces and additional amenities for drivers. The building will include bathrooms, showers and a lounge.
"We are proud of what we've accomplished in the past 11 years, and we look forward to continuing to grow and create new career opportunities here in Memphis," Denkov said.
Tchoparov said the company is already exploring options for a second expansion along the American Way property within the next few years as the company continues to grow.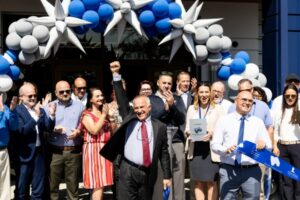 "It is a critical logistics park without that official designation," Greater Memphis Chamber of Commerce chief economic development officer Ted Townsend said regarding the headquarters.
Townsend said the proximity to Interstate 240 and the Memphis Airport is a critical component for the success of RDX and why local officials worked together to help rebuild the former Mall of Memphis site.
"When I look at the American dream — it is RDX," Townsend said. "This is the exact symbolism of what the American dream is."
Bartlett-based RossWitt Architecture was the architect for the project. Memphis-based Chris Woods Construction was the general contractor.