Chris Woods News
This article originally appeared in the Daily Memphian.
Memphis Record Pressing plans $30M expansion in Bartlett
Memphis Record Pre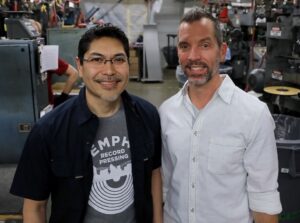 ssing is spinning quite the expansion tune right now.
On Thursday, the Bartlett-based company announced plans for a $30 million expansion that will double the company's workforce and effectively make it the largest vinyl record manufacturer in North America, according to a news release.
"This expansion will provide much-needed relief to the enormous backlog in the vinyl industry that's been driven by historic and unprecedented consumer demand," co-founder and CEO Brandon Seavers said in a statement.
The investment will include a $21.3 million facility expansion at its headquarters at 3015 Brother Boulevard in Bartlett. The expansion will add 33,000 square feet of manufacturing space and the addition of 36 record presses. The new facility is expected to open in late September.
Memphis Record Pressing will also begin $7.5 million worth of renovations on a warehouse site at 7625 Appling Center Drive in Bartlett. The 100,000-square-foot building will operate as a packaging warehouse. The site is expected to open in June.
In 2018, Memphis Record Pressing was awarded a 10-year, $7.5 million fast track Payment-in-lieu-of-taxes (PILOT) from the Economic Development and Growth Engine for Memphis & Shelby County (EDGE) for the construction of a new logistics center at 7625 Appling Center Drive. The expansions are expected to help create an estimated $10.3 million in tax revenues over those 10 years, according to the news release.
In August 2021, the City of Bartlett awarded a 10-year, $21.5 million PILOT to Memphis Record Pressing for expansion work at its headquarters at Brother Boulevard. Approximately $15.8 million of those funds will be used for equipment purchases; the remaining funds will be used for construction and renovation costs, according to Kim Taylor, Director of Planning and Economic Development for Bartlett. Both incentives will be used to help fund the expansions.
Last month, the company filed a deed of trust on the Appling Center property for $7,532,000, according to the Shelby County register of deeds.
With the expansion, Memphis Record hopes to add at least 280 more jobs by 2023. The annual salary will average $42,000 including benefits.
Memphis Record Pressing was founded in 2014 by Seavers and Mark Yoshida. The company went public in 2015 and produces over four million records annually, including over seven million pressing last year.