Chris Woods News
This article originally appeared in the Daily Memphian.
Memphis Goodwill's re-sale store and donation center in a former Rite Aid at 1810 Union in Midtown is scheduled to open Oct. 29.
A $200,000 renovation is winding down at the store site at Union and Idlewild, which has been vacant since last fall.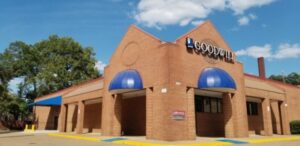 The store, Goodwill's 16th in the Mid-South, will feature a mixture of gently used and new merchandise for sale. Goodwill has constructed a covered drive-through for donations on the Idlewild side.
"This location will help serve Goodwill's mission of job creation by directly and indirectly creating 38 jobs," said Goodwill president and CEO Tony Martini. "We have sought a retail location in Midtown for some time, and we are very grateful this opportunity arose."
A grand opening will start at 9 a.m. Oct. 29 and include a ribbon-cutting by the Greater Memphis Chamber, hourly drawings for $25 gift certificates and "Basket Bingo" prizes for on-the-spot $10 shopping sprees.
The 17,700-square-foot store contains 10,500 square feet of retail space.
Goodwill anticipates the store will log 67,000 sale transactions and 30,000 donor visits in the first 12 months of operation.
Staff is reporting to the site for training and job assignments as work continues on installing fixtures, stocking shelves and racks, installing interior store signs and setting up donation processing areas.
The project team included Bill Fuller & Associates, architects, and Chris Woods Construction. Jess Ossorio with Crump Commercial represented Goodwill in a long-term lease with P.M.G. Leasing, New Orleans.
Shopping hours at 1810 Union will be 9 a.m. to 8 p.m. Monday-Saturday and 11 a.m. to 6 p.m. Sunday. Donation hours will be 8 a.m. to 8 p.m. Monday-Saturday and 11 a.m. to 6 p.m. Sunday.
Memphis Goodwill, a nonprofit founded in 1927 as a territory of the national Goodwill Industries movement, has six other stores in the Memphis metro area and nine stores in North Mississippi. It also operates Goodwill Excel Center Memphis, an accredited high school for Shelby County residents 18 years and older.
The 25-year-old Rite Aid store was vacated and its pharmacy records transferred to Walgreens last November after Walgreens bought nearly 2,000 Rite Aid stores earlier in 2018.