Chris Woods News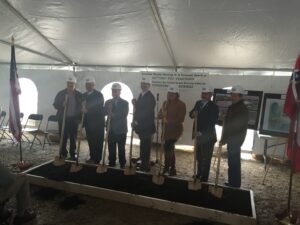 Michael Hatcher & Associates has purchased a 22-acre site at 8365 Center Hill Road in Olive Branch for its new 10,000-square-foot headquarters now currently under construction.
More than 300 people braved chilly temperatures and a brisk wind as Hatcher, along with his financial backers such as BankPlus and clergy, family and friends held a groundbreaking, or a "ground blessing" as he called it this past Thursday.
Hatcher's new Landscape Center is located within a stone's throw of another botanical wonder, the Brussel's Bonsai nursery along Center Hill Road.
For more than 30 years, Hatcher has operated out of his facility off Hacks Cross Road, just across the state line in Shelby County, but has outgrown this space. The new facility and grounds will be called the "The Landscape Center" and will include a 5- acre parcel on site dedicated to environmentally-friendly green trends for recycling and composting of yard waste from client properties.
"It's not a garden center — it's not a nursery," Hatcher said. "It's a vision. It's a facility that nurtures the environment."
The site will also include a 2-acre "Urban Gardening" — a trend sweeping the country where clients can see "display libraries" of vegetable gardens in raised planters, small fruit orchards and ways to harvest food for neighborhoods, corporate gardening and group gardening projects. Occupancy is expected by the fall of 2016. Hatcher has supported the "Come Alive Outside" program while working with The Kitchen Community where school students get to work alongside teachers and gardeners to encourage more interest in gardening. This new urban garden center will serve as an outreach resource to the community for educational field trips for schools as well as senior care facilities. "We have a lot of interest from some of our commercial clients like senior care developments who want their residents to garden and learn to enjoy gardening. It's a great thing for seniors to do and stay active," says Michael Hatcher. The site will also allow for parking, soil and mulch storage, plant holding and nursing storage and reuse of site surface water runoff into detention ponds for irrigation needs of the entire property. The 10,000-square-foot office building will have training rooms—one that will seat 144 people, production offices, an open floor plan for design and communication efficiency, two buildings for equipment storage and repair shop. The company is an employee-owned business and the new "Landscape Center" name came from the Hatcher team of employees, designers, landscapers themselves. The center will reflect the commitment to green spaces and will have landscaping screening and features that are reflective of Hatcher philosophy. District 1 Supervisor Jessie Medlin praised Hatcher's vision.
"He started this business with two employees and a raggedy-old pickup truck," Medlin said. "Now he has more than 90 employees. Michael is a community-minded person. He is involved in the community and done a lot of things to help the community."
Hatcher has served as the DeSoto County Greenways Committee's first chairman and in other capacities with the DeSoto Council and other agencies.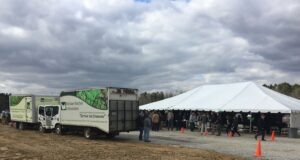 This article originally appeared in the Desoto Times on Feb 29, 2016, read it here.