Chris Woods News
Original Article appeared in Commercial Appeal
The steel-beam outline of a church building and steeple — standing for eight years like a spiritual sculpture in Downtown Memphis — is finally going to be fleshed out.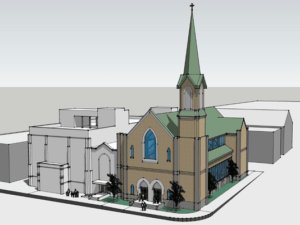 First United Methodist Church at 204 N. Second has filed permit documents to finish rebuilding its 113-year-old sanctuary destroyed by fire in October 2006. Construction could resume as early as February.
The historic church, founded in 1826, estimates in the permit application that the project will cost about $2.5 million. But the total spending to finish the building will be about $4 million, the pastor, Rev. Andy Rambo, said Thursday.
The church already spent more than that soon after the fire with the first phase:  Demolition of the ruined areas, renovation of the education and office building, and the 2009 erection of steel beams that outline the future sanctuary and 80-foot-tall steeple.
Construction stalled because the church could not afford the $6.5 million to finish the original, second-phase that featured "a lot of mill work, lot of stone work," Rambo said.
Fire insurance paid only for the depreciated value of the building, not for the higher replacement costs.
Returning to the drawing board with a different architect, church member William Wage, the latest design is structured on the same steel bones erected eight years ago. But it features more glass to connect the space to the outside, exposed steel beams inside, concrete floors and more flexibility. For example, instead of pews there will be movable chairs.
Rambo said the church did not approach Wage and ask him "to make it cheaper."
"He had this vision for what it could be. … He had a positive approach. He saw (the ministries) happening on the slab. So much ministry has taken place there and it's somewhat of an icon to the people of Memphis," Rambo said.
Two different organizations have been using the exposed area under the steel beams to feed the homeless on Tuesdays and Thursdays. The church is committed not to let the phase 2 construction end those ministries, Rambo said, adding, "We will provide other space."
The church conference is to vote Sunday on whether to approve second-phase construction, but "there's every evidence it will be overwhelmingly 'yes'," Rambo said.
Chris Woods Construction is the contractor.
The church received two, $1 million donations about four years ago to finish the building, so it still has another $2 million to raise. First Methodist will not borrow money, but may work out an agreement with the contractor to complete $2 million worth of work — likely completing the shell — and to finish the interior once the other $2 million is raised.
The existing facility is large enough for the 85 people on average who attend Sunday services. "It's not necessary we have a sanctuary, but it will be a catalyst for growth," Rambo said of the completed worship space.