Chris Woods News
This article originally appeared in the Daily Memphian.
With the goal of preparing students for high-paying jobs – sometimes right out of high school – Arlington High School offered the first glimpse of its new STEM Hub last week.
The hub encompasses the school's BioSTEM Lab, STEM Lab, Cybersecurity/Coding labs, Machining Lab, Mechatronics Lab, FabLab (Fabrication Lab), and Welding Lab, providing a number of opportunities outside of traditional classes.
"It's probably one of the most comprehensive STEM Hubs in the state of Tennessee," said Todd Goforth, AHS chief of academics. "There are numerous opportunities for our students here now."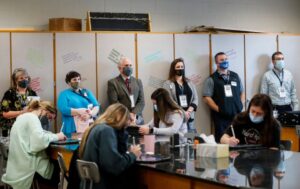 The new AHS Machining Lab teaches students operation of manual and computer numerical controlled machines used to make medical device parts like those produced by Arlington companies MicroPort Orthopedics and Wright Medical.
"So, this skill that the students are learning is prepping them for the manufacturing industry, and medical device is one attractive industry (where jobs are) in high demand," instructor Antonio Hayes said. He noted the certifications students earn by the time they graduate are recognized around the world.
This school year, AHS has already had one student offered a lucrative machining job in Arlington.
"So that's the goal for our kids with these skills-based activities … because we all know that college is not for everybody," said AHS principal Chris Duncan.
The school's Cybersecurity Lab is also new this semester. Arlington is one of only two high schools in the state with such high-level cybersecurity equipment.
"I'm so excited to have this equipment to be able to prepare my students for their futures in this field," said Beth Handy, AHS cybersecurity and AP computer science teacher. "There is a huge demand for cybersecurity professionals, and there's only a few people certified.
Since 2011, for every 100 cybersecurity applicants, only 48 on average are qualified, resulting in a 0% unemployment rate in the cybersecurity field (which includes jobs like IT security specialists, information security analysts, network security engineers and application security engineers).
Assistant football coach Devon Coburn leads the AHS Coding Lab that teaches students computer coding skills.
"We give an industry certification for Microsoft, and when you get to the companies you can earn more and more certifications," Coburn said. "We're the only ones doing this right here."
Last year the school established its Academy of Engineering and Innovation, which complements the new STEM Hub. Next year the AHS BioSTEM Lab will offer BioSTEM 2, which will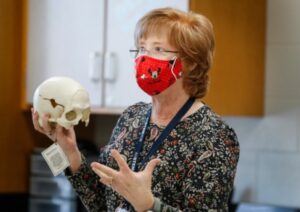 include genetics, forensic anthropology, DNA replication and protein synthesis.
"These are some skills that they take on not only to college but also on into the workplace," AHS anatomy and physiology teacher Janet Pennington said.
The school's STEM Lab includes 3D printers and laser cutters like Ender Pro, Glowforge, and Maker Bot Replicators used to make an endless variety of highly detailed items, including Christmas ornaments sold next year as part of the school's store.
The new AHS FabLab (Fabrication Lab) is one of only 10 or less in the state. While it is designed for the high school students, there are plans to expand the program to the community. That will provide access to the learning tools for others as well. Southwest Tennessee Community College is partnering with AHS on a dual enrollment program that earns students college credit while still in high school.
"We're really excited to give the students not only the skills but also the college credits and the certifications," said Anita Brackin, associate vice president of Workforce and Economic Development and Continuing Education at Southwest. "There's not a company in Memphis that doesn't need somebody who knows about moving parts (referring to the AHS Mechatronics Lab)."
Shelby County Commissioner Amber Mills attended the tour on Thursday and was instrumental in helping secure a large portion of the funding for the labs. Overall, Mills helped secure about $400,000 of the estimated $750,000 invested in the various labs.
Chris Woods Construction served as the general contractor for this project.