Chris Woods News
This Article originally appeared in the Daily Memphian.
A recent $21.3 million expansion will make Bartlett-based Memphis Record Pressing (MRP) one of the largest manufacturers of vinyl records in North America by next month.
The company held a special ribbon-cutting event on Thursday, April 13, to show off the new facilities at its production headquarters at 3015 Brother Boulevard.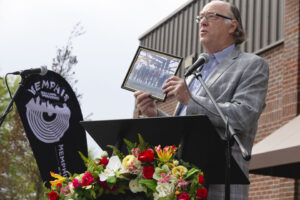 "Even though we're making a legacy product here with vinyl records, we truly believe that we're producing something that's magical," co-founder and CEO Brandon Seavers said. He and Mark Yoshida founded the company in 2014. "We're really so in love with music and with the Memphis music community and what it represents."
The company is capitalizing on the huge revitalized interest in vinyl records that has emerged over the past decade.
"Part of the resurgence is the experience you get with vinyl and also the collectability. It's just something cool to have a physical copy of artists that you really want," Yoshida said.
The recent expansion, built by Chris Woods Construction, adds 33,000 square feet of manufacturing space and 36 new record presses.
"What you see here today is really the result of a lot of hard work, a lot of prayer, a lot of grit and a lot of grind. It's been incredibly challenging and incredibly difficult," said Seavers, who credits the company's committed workforce. "We never imagined that we would be here today in a facility that is going to produce possibly 30 million records this year."
With the expansion, MRP will increase its workforce to more than 500 employees. Yoshida said the expansion should help the company address the needs of a growing industry, meeting the demand in the coming years.
Building the expansion proved more difficult than Seavers and Yoshida envisioned when they bought the additional land. The expanded site was sitting on the Fletcher Creek Basin.
"We found out shortly thereafter it was going to be challenging to actually build something here. The fact that we're doing it today really is just almost a miracle," Seavers said.
Bartlett Area Chamber of Commerce President John Threadgill commended the suburb for "making sure that Memphis Record Pressing was going to stay inside the city limits of Bartlett."
The company took advantage of incentives to help fund the expansions.
In 2018, MRP was awarded a 10-year, $7.5 million fast track Payment-in-lieu-of-taxes (PILOT) from the Economic Development and Growth Engine for Memphis & Shelby County (EDGE) for the construction of a new logistics center at 7625 Appling Center Drive.
Then in August 2021, the City of Bartlett awarded a 10-year, $21.5 million PILOT to MRP for expansion work at its headquarters on Brother Boulevard. Approximately $15.8 million of those funds were used for equipment purchases; with the remaining funds used for construction and renovation costs, according to Kim Taylor, director of Planning and Economic Development for Bartlett.
"The PILOTs were very important for being able to get this multi-million dollar expansion done," Yoshida said.
The vinyl record company has also completed the $7.5 million in renovations on a warehouse site at 7625 Appling Center Drive. The 100,000-square-foot building will operate as a packaging warehouse.
The expansions are expected to help generate an estimated $10.3 million in tax revenues over those 10 years.
Grammy-award-winning artist Marcella Simian performed at Thursday's event, which was attended by numerous elected and city officials.
"This is what a true success story in Bartlett's all about," Mayor David Parsons said. "You've got two business owners who live in Bartlett that hired a Bartlett general contractor, that chose to grow their business in Bartlett and make it what it is today."
Seavers and Yoshida started out working together with a recording studio business in the 1990s. That business morphed into a CD and DVD production business, Audio Graphic Masterworks, during the 2000s. When those industries began to slow down post-Great Recession, they created Memphis Record Pressing in 2013.
"These guys are true entrepreneurs," Threadgill said. "When I first met (them), vinyl records were not even in their scope at all. What they were doing was CDs … and then they got into DVDs. As those industries matured and basically went away, they had to find other areas to go into."
MRP plans a separate ribbon-cutting for its new Appling Center Drive facility on April 20.