Chris Woods News
This article originally appeared in the Commercial Appeal
$7.5 Million Plasma Donor Center Planned
For-profit plasma donor centers in Memphis are typically housed in Class B or Class C buildings and in commercial districts near economically struggling neighborhoods, where more residents might have reason to sell their blood than give it away.
But now comes BioLife Plasma Services. The company has filed building documents showing it intends to construct a "world-class," $4.5 million facility. Counting equipment, furnishings and soft costs, the project is a $7.5 million initial investment, company officials told The Commercial Appeal by email.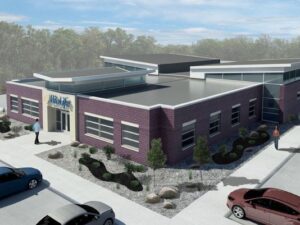 And the site where BioLife chose to build in Memphis — a bustling section of the Germantown Parkway corridor — is hardly stressed. The vacant lot is across Bellevue Parkway from Wolfchase Toyota and just around the curve from the new Ikea.
By contrast, a review of the existing Memphis buildings housing plasma-collection facilities shows that the one with the highest value was the corporate headquarters for the Memphis-based Interstate Blood Bank. Its 32,539-square-foot building at 5700 Pleasant View is appraised for tax purposes at $1.2 million by the Shelby County Assessor's Office.
More typical would be the facility at 3582 Walker near the University of Memphis and all the college students in need of $25 spending money per donation. That Interstate Blood Bank building is appraised for $134,400. Or Plasma Biological Services at 3514 Ramill in Raleigh, which is housed in a strip center space appraised at $180,000.
Larry Moss, who heads the Interstate Companies, appeared surprised this week when informed by a reporter that BioLife intends to invest so much in a Memphis facility. Grabbing a piece of paper and pen to write down where the BioLife facility is planned, Moss indicated he had no explanation for the economics of BioLife's investment.
Interstate Companies operates 23 plasma donation centers and nine whole-blood collection facilities. Interstate's newest plasma donor center will be in Mendenhall Square shopping center, which contrasts sharply to the BioLife site. The Hickory Hill/Fox Meadows strip center anchors the junction of Mendenhall and Winchester, where vacant retail property and disinvestment has left some properties blighted.
BioLife is a division of Shire, a biotechnology company focused on rare diseases and highly specialized medical conditions. Asked what BioLife will do at its Memphis site, Shire spokeswoman Molly Poarch said by email that the company "is an industry leader in the collection of high quality plasma that is processed into life-saving plasma-based therapies. BioLife operates and maintains numerous state-of-the-art plasma collection facilities throughout the United States."
The BioLife website lists 91 plasma collection facilities in 25 states. The only other BioLife center in Tennessee is under construction in the affluent Nashville suburb of Mt. Juliet, where planning officials were a bit surprised by the newcomer. That plasma donor center, rising near a Walmart, Lowe's and new car dealership, is to open in September.
"They didn't come in with a lot of information about their business model," Mt. Juliet planning director Bo Logan said. "Everybody that I work with at the city is wondering about."
When an architect for BioLife appeared before a Mt. Juliet planning board last spring, one of the board members joked that he recalled plasma donor centers from his time as a college student, a video recording of the meeting shows. The architect was asked what demographic data BioLife considered when choosing to build in Mt. Juliet. The architect responded he did not know.
Each of the BioLife facilities employs 50 to 70 people, Poarch said. In addition to the initial $7.5 million investment, BioLife pays $3 million a year to customers who donate plasma. Technically, the customers are being reimbursed for their time, not being paid for their plasma.
Still, the mercenary aspect — the selling of a body fluid or the time it took to give it —  has contributed to an image that the industry has worked to change.
That poor image existed until the 1970s and 1980s, said Patrick Robert. He is president of Marketing Research Bureau, which conducts market studies on blood and plasma.
"Not today, but in the past it was very poor because plasma was donated by individuals of low means and for this reason plasma centers were located near bus stations, for example, or areas that were not very nice," Robert said.
Spurred by the trade association Plasma Protein Therapeutics Association, the plasma collection industry "has tried very hard to brighten and change the image of plasma and plasma donation," Robert said.
Even though its customers are paid for their time, the industry frames the donations as a civic contribution that benefits patients suffering from rare diseases and blood-related conditions.
"It's actually a very laudable gesture to donate plasma, just as it is to donate blood," Robert said.
"I agree it's a little bit challenging and yes, in the old times it was simple to put plasma centers where there was poverty," Robert said. "But (now) the companies try to put the centers in affluent localities in order to attract everybody, not only low income people."